The Creativity, Resources, and Experience to Navigate the Digital World
 Website design & development
Enhance your online presence with award-winning design combined with the most advanced digital technologies.
Create brand awareness through our PIERS Branding strategy—so every customer interaction with your brand is a great experience.
C-level Marketing Leadership
Our executive evaluation programs align marketing strategy with business objectives utilizing digital ecosystem innovation and best practices.
Search Engine Optimization
Get found by your prospective customers. Our SEO experts implement the right strategies, tools and analytics to improve your online positioning.
Cross-pollinate your "story" across online social channels to build brand engagement and broaden customer reach.
Design with a comprehensive understanding of the digital ecosystem and how online, mobile, social, search and e-commerce channels work together to influence brand loyalty, customer behavior, and drive sales.
Develop creative concepts and targeted content—blogs, articles, videos, ebooks, social media,etc—that aggregates consistent brand messaging across online and mobile channels.
Create and manage compelling email campaigns by targeting key differentiating value propositions to enhance leads activity and conversions performance.
Manage reviews programs and tools to build brand loyalty and transform your customers into brand advocates.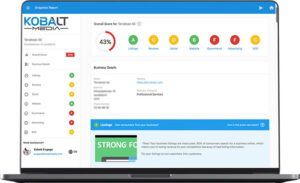 KOBALT SCORECARD
Award winning marketing needs assessment
The Digital Ecosystem Scorecard Report is a personalized report that surfaces and compares your business' online presence to others in the industry, arming business owners with automated insights into their business' online marketing performance.
Get My Digital Marketing Scorecard Snapshot
Come Work with Us.
Interested in having our team work on your next project? Talk to one of our experts and learn more about how we can get your technology ready for whatever the future has in store.